What to Expect at Elmbrook Chiropractic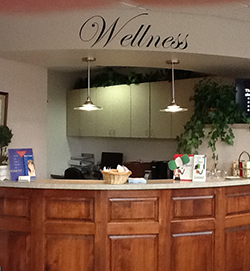 Each of your visits with us is about you and how we can best meet your needs. We invite you to sit back and relax in our family environment.
Your First Visit
When you first come into our office you will be greeted with a smile. We are always eager to meet our new patients and welcome them into our office.
You can find the necessary paperwork for your appointment on our website and bring it in with you, otherwise, we will fully explain it to you when you arrive.
You'll then be offered some tea or water before you are brought back to the examination room. You might see Dr. Schultz or other members of our team on the way. We'll stop and introduce ourselves so you get to know everyone.
Your Examination and Imaging
Dr. Schultz will come in promptly to talk about your health history. We spend as much time as we need to find out what's going on in your body.
We'll start with the examination, which includes:
Taking your blood pressure
Range of motion tests
Muscle testing
Reflex testing
Motion palpation
We have several therapies to fit each person's individual needs.
Then Dr. Schultz may give you your first adjustment depending upon the circumstance.
Home Care
On this first visit, we'll go over what you can do at home to help your body's healing. You'll also get a folder to take home with some information about chiropractic and your test results from the scanners.
Dr. Schultz will also give you a call that evening to see how you're doing and answer any questions you may have.
We'll have you schedule a follow-up visit to discuss your examination results.
You can plan on being in our office for about 60-90 minutes on this first visit.
Your Report of Findings
On your second visit with us, we'll review your examination results in detail. Our approach to health and wellness will be discussed. You'll learn how this meets your particular needs. Based on our experience and your history, we'll let you know what we recommend for a care plan.
You'll also go over your financial information with Dr. Schultz or our office manager. She handles the billing and payments and can help you set up a payment plan if needed.
Returning for Care
How long you continue seeing us is your choice. We'll do our best to talk to you about what we do, and we hope that you'll see success with chiropractic that will make you want to continue not only for the therapeutic care but also for wellness care. It's just like going to the dentist for good dental hygiene regularly.
We want you to feel at home with us and we would love to answer any questions you might have.
Call today! (262) 789-0576